I arrive in Amanzintoti and she is there,in front of the house, at the gate.
Her manners are always the same, friendly, warm, encouraging.
Her clothes are practical, no time for diva gear around here, she needs clothes which can resist heat, rain, dirt, pain.
And the pain,that's also always the same,engraved in her words.
Words of emergency, danger, desperation, and the daily routine around here:
1)preparing a rapebag with inside toys,fruit juice, and underwear ("no one thinks that those children are leaving the hospital without the underwear, because they are needed for the forensics…so basically naked" she says);
2)picking up a beaten up 4 years old from his home full of drugs and drunks and horror;
3)rescuing a 2 months old from sure death in the bushes in the scorching heat
4)working the paperwork for a court appointment, which will ensure that a woman can leave her abusive husband with her starving children.("The money goes to gambling, and the kids have nothing to eat but raw potatoes found in the ground).
A typical day at the office for Operation Bobbi Bear and its staff.




A typical day of running somewhere, rushing somewhere, getting horrific phone calls, coordinating everything.

A typical day of saving lives.
Back to her .
This time she is not alone: she is carrying a small child in her arms, while dealing with the world asking the world from her.
We sit and more pain comes in her words, pain added to pain.
The child looks 3 years old, but he is 5. He is the product of a pregnancy filled with alcohol en drugs, the product of severe beating at the hands of his wasted father, who thinks it is funny to mark him with burning cigarettes, toss his pram, while shooting heroin.
He will never be a normal child, so frail, and small, and delicate, and doomed since the day he was born.
She holds him in her arms and he looks at her, then at me, and finally at my presents for him, curious just like a normal child.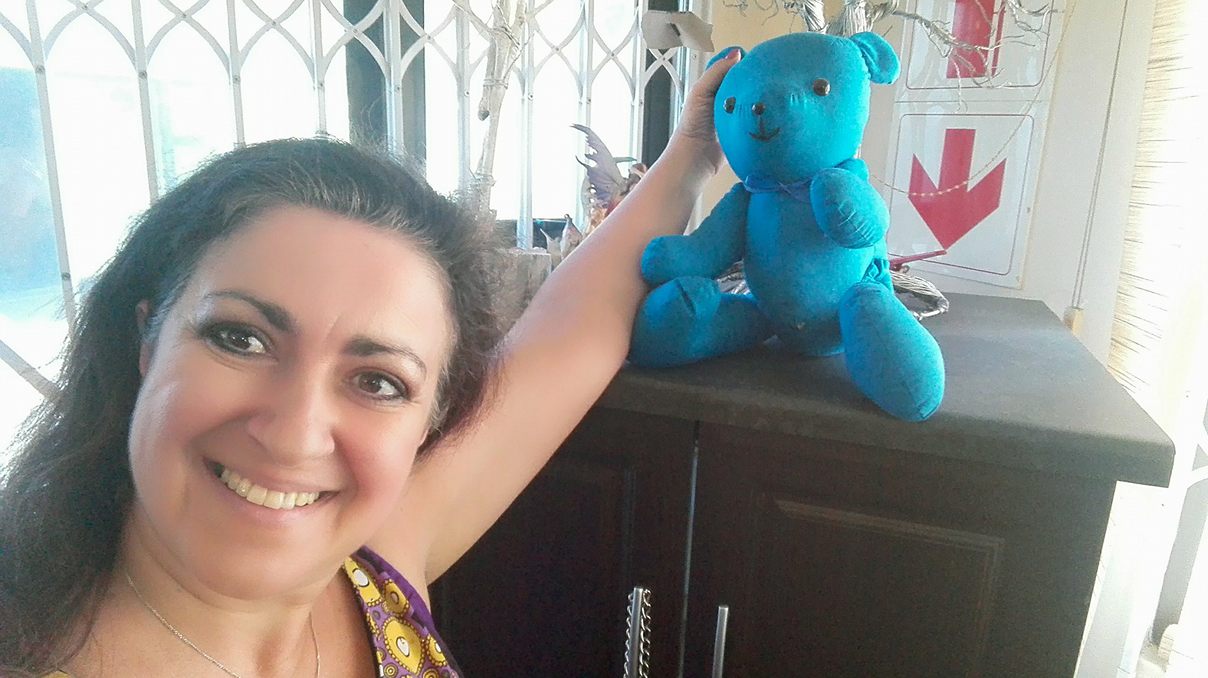 He touches everything smiling, while my heart breaks and I don't hear any words anymore, I just feel his and her pain, and I can not breath, squashed under the enourmous gigantic weight of injustice, unfairness, cruelty dawned upon him and so many like him.
I quit asking myself why, after many years visiting Bobbi Bear and supporting them,
I quit,as everybody at Bobbi Bear has already done long time ago.
I wipe my tears everytime, and instead of "Why?" I ask "What?"
"What can we do to help you?"
"What can we bring to make your life easier"
"What will make a difference in your work today?".
I ask again.
The pain stops for a moment and her eyes fill with hope.
She takes me in the kitchen of Bobbi Bear headquarter: there, sitting between a huge amount of bread, butter and peanut butter, a group of women preparing sandwiches while chatting and laughing.
"Those are the angels AKA the staff" she says. "They are preparing all these sandwiches for the rescued children. They are very simple sandwiches, just peanut butter sandwiches that is all we can afford".
("Really? Well, let me worried about that,I think).
The ladies look at me and ask me for a song.
I sing, and the words could not be more appropriate:
"One of these morning, you are going to raise up singing,
and you will spread your wings and you will take to the sky;
but til that morning, there is nothing that can harm you
with mommy and daddy standing by, so, baby, don't you cry"
I sing and I fight the tears, while her blue eyes are filled with them.
I know why.
Because she hopes and prays everyday that that will be the future of all the Bobbi bear children.
The ladies cheer me and hug me like only african mamas can. The warmest embrace.
"Thank you" they say.
Oh,please.
Thank YOU Jackie, Eureka, Ladyfair, Bradley, Mildren, Chicken, Sindi, Thandi, and all of you.
Thank you all from the bottom of my heart.
I will never stop asking " What?". Never.
I hope all you readers will do the same,.
Sawbona, my dears,love from Zululand.